Welcome Back!
Investing activity is definitely growing as we completed 10% of 2020 last week 🤯. Since we last spoke, fourteen more Boston companies have secured $258M+ in funding.
Some other things I've been reading this week:
---
If you're new to my emails, welcome! My name is Nick Stuart and I write a weekly newsletter on tech VC financing trends in Boston. You can learn more about me on my website here and about the micro-VC I help run here.
---
VC Financing Rounds:

MIT-founded Accion Systems, the developer of a novel in-space propulsion technology, just secured $20M in Series B funding from Boeing's HorizonX and Shasta Ventures. They have now raised over $24M, with a cap table of over 25 investors including big names in space investing like Founders Fund, as well as local Boston-based VC's and accelerators like Founder Collective, Greentown Labs, MIT Delta V, and Stex25.
They're the creator of a new type of electrospray-based ion engine that yields greater power-to-weight potential than the thrusters currently being used in satellites and robotic space vehicles today. These are very small thrusters (around the size of a penny), and smaller thrusters mean more room for other parts of a spacecraft's payload, or even a smaller spacecraft.
These are not the type of thrusters used to get things into space because their output only works outside of our planet's atmosphere. Their low-power thrusters are meant to reposition objects already in orbit. Ion engines get their name from electrically ionizing neutral gases by extracting electrons from atoms, creating positive ions that can be used to generate thrust. The electricity part typically comes from solar panels.
In the simplest terms I can understand, these devices take the sun's light and use it to electrically convert molecules into ions which can efficiently beam objects across space. These ions can come from a variety of sources, but Accion uses a special liquid salt mixture that's easy to store on a spacecraft. Their thruster contains hundreds of microscopic chips that electrify their salty ionic liquid to produce thrust. This is generally called electrospray, which means they utilize electrostatic force to "break a liquid of finite conductivity into a plume of highly charged fine droplets."
They're going head to head against Busek, a space propulsion company that has been producing similar electrospray thrusters for spacecrafts for 21 years. This comes as space companies raised a record $5.8B last year to be the first to capture value in the new frontier. Not to mention the Trump Administration's ambitions to launch the US's Space Force by supporting initiatives like NASA's Artemis Program, which aims to get astronauts on the south pole of the moon in the next four years.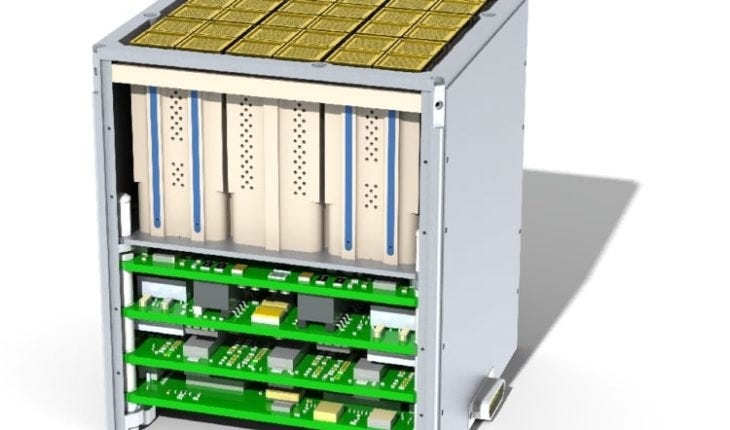 Image: A rendition of how Accion's thruster chips can be stacked.
---
Cryptocurrency settlement software company Arwen (Previously known as CommonWealth Crypto) announced a $3.3M round led by Slow Ventures, with participation from Coinshares, Collaborative Fund, Underscore VC, and DG Lab Fund. They have now raised ~$6M to help de-risk cryptocurrency trading.
Founded in 2017, Arwen is led by technical founder Sharon Goldberg, a Princeton Ph.D. with a decade of experience in network security and cryptography from research positions at Microsoft, IBM, Cisco, and more.
Arwen allows trustless trading of cryptocurrency on centralized exchanges. Why is this important? Take a look at some of the largest crypto exchange hacks to date to understand just how underdeveloped the security systems are in this space. "Being your own bank account" can be a very cool concept until somebody robs you and the FDIC doesn't have your back.
If you're familiar with holding crypto-assets, you know that storing them on a centralized exchange means trusting an outside party, which is something blockchain was supposed to eliminate the need for. However, it's not very convenient to print out your private keys, cut them into pieces, and spread them across undisclosed vaults throughout the country like the Winklevoss twins do, especially if you're doing more than just HODLing and instead managing the crypto assets of thousands of other people. Holders of crypto assets have always had to choose between liquidity and security.
The long-term vision in the space is to have exchanges that are completely decentralized so there's no need for trust, but this is also highly illiquid because a buyer must always have a matched seller. So for now, Arwen allows its customers to trade crypto assets while keeping control of them through a layer-two asset transfer protocol on the blockchain. This protocol allows users to in a way, "undo" what was previously immutable. They're currently live on the KuCoin exchange.
---
MarTech company Plannuh just secured $4M from Gradient Ventures (Google's AI Fund) and Glasswing Ventures to bolster R&D and grow their customer success team. Founded in 2017 by Peter Mahoney, the eighteen-person company strives to create a simple, visually compelling marketing planning and budget system driven by AI. Their platform allows marketers to create a budget and manage marketing plans, set goals, and track ROI on a simple cloud-based dashboard.
---
WinESCo, a six-year-old CleanTech company out of Burlington, just raised $5.32M from so far undisclosed investors, bringing their total raised to $7.5M. The company focuses on using IoT solutions to generate and leverage wind farm data. Their technology includes a rotor monitoring system, individual blade monitoring device, data transmission devices, and a software system to analyze it all. They leverage this captured data to improve the annual energy production (AEP) of wind turbines while increasing the lifespan of its individual components. Annual energy production is one of the key figures in estimating a wind farm's IRR. They have received several grants from the Massachusetts Clean Energy Center.
---
Ten-year-old AI-driven health data analytics firm Swoop raised $3M from undisclosed investors, bringing their total capital invested to $18.5M. Previous backers include Archer VC, General Catalyst, and US Venture Partners. Their products help biotech and pharmaceutical companies "understand, find, engage, and convert their ideal patient and HCP populations." They have a dataset of over 300M de-identified patient claims that help firms develop insights about their potential market.
---
Eniable, a two-year-old startup helping enterprises drive employee productivity, has raised a $2.5M angel round. It's led by Tommy Weir, a veteran in management and leadership development, and boasts 11 other employees spread across Boston and Dubai according to Linkedin.
---
Medical data aggregation company 1upHealth just raised $8M following their graduation from the MassChallenge HealthTech cohort in 2019. They promote easy interoperability among companies in the health industry by helping them utilize FHIR, a standard for application programming in health records. The company already works with Boston Children's Hospital, the FDA, IBM, and several other institutions. It's lead by ex-Google PM and NavHealth engineer Ricky Sahu and is now boasting over 16 employees.
Investors include Eniac Ventures, Social Leverage, and Meridian Street Capital. With corporate investment from Boston Children's Hospital and government grants from both the US Dept. of Health and Human Services and the Office of the National Coordinator for Health Information Technology.
---
The eight-year-old company fixing Africa's drug supply, mPharma, just raised $13.1M in what is expected to be a $21.5M Series C. The company has a long list of investors including BNSG Capital, NovaStar Ventures, Breyer Capital, and Social Capital. With over $35M raised to date, mPharma is making it cheaper and easier for patients in emerging markets to access prescription drugs. They currently work in five African countries, servicing over 400K patients. They help patients get expensive and hard-to-access prescriptions by "stocking pharmacy shelves with no payment required upfront through price negotiation with the pharmacies in their network."
---
Entri, the developer of a test-prep app for Indian exams with offices in Boston, has raised $1.4M from Good Capital. They previously went through LearnLaunch's EdTech Accelerator program in 2017. The platform is meant to be used as an onramp to government and private jobs. India's EdTech space is heating up. It was recently reported that Udemy surpassed Tinder in India as the country's top-grossing app and BYJU, India's largest EdTech company, just received $200M from General Atlantic bringing their valuation to $8B.
---
nQ Medical, the developer of a digital analytics platform for detecting neurological diseases, raised $2.65M in venture debt. They use AI to recruit study participants for trials and monitor patient care remotely. Led by R.A. Bavasso, the company has a "computational biomarker derived from 5 years of clinical trials that passively collects user data from personal devices to support disease management of neurodegenerative disorders."
---
Aiven, a Finnish cloud services startup with Boston offices, just closed a $40M Series B from IVP. Similar to RedHat, they help companies manage the combination of open-source technology and cloud infrastructure
---
SaaSWorks, a company specializing in scaling subscription businesses with high growth potential, raised $5M from Conversion Venture Capital. The company works with small cohorts of budding SaaS companies and helps them improve customer health, revenue operations, and customer success outcomes. They are currently accepting applications for their third cohort of companies to grow.
---
Behold brands, an upstart marketing platform for cannabis brands, raised a $150K angel round from undisclosed investors.
---
Talent acquisition firm Globalization Partners has received a $150M minority investment led by funds managed by Wincove Private Holdings and TDR Capital, with participation from Sands Capital to bolster their global expansion hiring platform.
---
Thanks for reading!
That's all from me until next week — If you'd like to connect with me, you can find me on Linkedin and Twitter or check out my website at nickstu.art.
Missing something? Spot an inaccuracy?
Email me and tell me about it! I'll be sure to share it in my next update.