Two Boston Startups Have Raised $530M to Become PE Firms for eCommerce
Will "Digital Rollups" for Amazon FBA Products Take Off?
The Boston area is home to the two largest acquirers of Amazon FBA businesses.
Why are investors so bullish on the model?
Last week, Boston-based Perch raised another $123M led by Spark Capital, with participation from Tectonic Ventures and Boston Seed (who also just raised a new $55M fund). The company, led by a group of Wayfair alums, has now raised $134M. Back in July, I wrote a post about one of Boston's latest unicorns — Thrasio. The company managed to (profitably) reach unicorn status faster than any other firm in the U.S. with $397M in capital raised. Both Perch and Thrasio are part of a new breed of startups focused exclusively on buying mature D2C businesses built on Amazon's rapidly growing FBA Marketplace.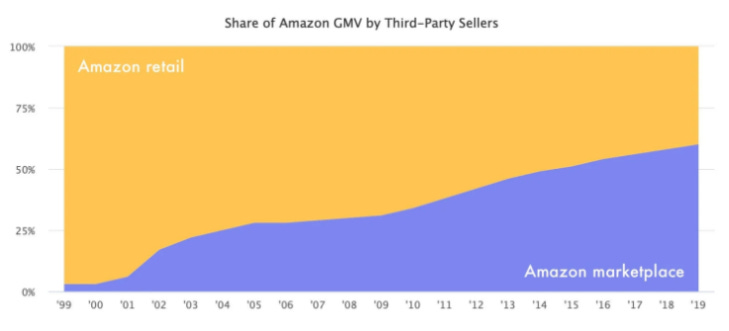 The FBA Marketplace is a platform that helps anyone sell a product with Amazon's shipping, storage, removals, and returns as the backbone. By giving a portion of their earnings to Amazon, entrepreneurs can carve out a niche product line, fine-tune their S&M spend, and generate income off of products they sell — all with fulfillment taken care of.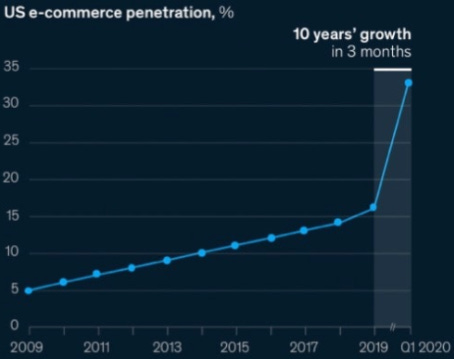 US eCommerce penetration has accelerated to 10 years worth of growth occurring in Q1'20 alone.
The "Digital Rollup" Strategy
This new breed of "private equity" is being driven by founders who see an opportunity to provide liquidity to those running profitable companies on the FBA marketplace, while still giving them a slice of the upside post-acquisition. The idea is that a single entity managing pricing, S&M, and operations for hundreds of these companies can gain economies of scale that these entrepreneurs would be unable to get alone.
Both Perch and Thrasio are building proprietary digital platforms for internally managing every part of these businesses, almost like an operating system for running multiple D2C brands. They look for companies on the FBA Marketplace with a trademarked brand, 12+ months of profitable growth, a low return rate, and favorable customer reviews.
Adam Keesling at Napkin Math wrote an excellent analysis on the model and what he calls the "Digital Rollup" acquisition strategy as a whole.
"They buy under-optimized businesses in a highly-fragmented industry. Then, they improve operations, mash together the backends and either milk the cash flow for dividends or sell at a higher multiple….And not only can a small business sometimes be run more effectively by a sophisticated buyer, but just by becoming a larger business the earnings become more valuable."
In my last post about Thrasio and Perch, I mentioned three concerns about the FBA acquirer model:
If this is essentially a PE rollup company, should it be getting valued like a tech company? Why should Perch and Thrasio be valued differently than a PE firm that does the same thing in the consumer category? Also, are PE firms building tech products for managing acquisitions?

Is there a possibility that Amazon tweaks its model overnight and crushes these businesses? We already know Amazon scooped up data from its own sellers to launch competing products. What's stopping them from being better at identifying promising businesses on the marketplaces and copying them? They do own the data after all…

How does one Amazon FBA acquirer compete against another? Kind of similar to the argument in the VC world: if capital is a commodity, is speed what wins deals? Thrasio says they can close an all-cash acquisition in 43 days on average and Perch says it can do so in under two weeks. What are the other big selling points?
Adam Keesling brought up two other fascinating questions:
"Perch/Thrasio for X"
What other types of marketplace businesses could benefit from a rollup-style acquisition model? Could somebody acquire dozens of paid Substack newsletters? Instagram meme pages? Twitch streamers accounts…OnlyFans? Although bundling content creators vs products may be a whole different beast.

What about getting Amazon businesses off of Amazon?
On point #2 above, what if reducing platform risk is part of Perch and Thrasio's strategy? Alongside streamlining operations, the companies could also specialize in diversifying distribution of the products. They could become experts in buying businesses that do all of their sales on the FBA marketplace, and quickly get their product up and running on Shopify to hedge the risk of Amazon screwing them over, instantly making them more valuable.
I'm really curious to see where these companies go in the next few years and what new acquirers might pop up. Let me know if you have any thoughts.

---
Stuff I'm Reading:
---
Other Boston Tech Deals:
Cambridge-based WoHo just launched with a $4.5M seed round led by The Engine. The company is creating modular building blocks for low-to-high rise buildings that bring down costs and increase efficiency in building construction.
Links: TechCrunch, BostInno, FINSMES
---
According to a new Form D, Somerville-based Unison Computing has raised $4.7M. The company, a Certified B Corp, is building open-source programming language designed for distributed, elastic systems. The code is meant to be content-addressed and immutable.
Links: SEC
---
Cohere Health, a Boston-based HealthTech company that raised $10M four months ago, has raised an additional $10M from return investors Flare Capital Partners and Define Ventures. I wrote in July:
Their platform aims to improve the prior authorization process of the patient care journey to reduce costs, administrative burden, and patient experience.
Links: FINSMES, MobiHealthNews
---
Wastewater treatment company Allonnia just launched with $40M in Series A funding from Ginkgo Bioworks, Battelle, General Atlantic, Cascade Investment, and Viking Global Investors. They focus on "bioremediation," the process of cleaning a contaminated environment by triggering the growth of microorganisms that will degrade the pollutants from within.
---
Insight Partners just led an $18M Series B into Ambassador Labs, a company making it easy for developers to build microservices. They've previously raised over $4M from Boston Syndicates across two rounds. They've developed a Kubernates-native API gateway that's currently used by over 10,000 organizations.
Links: GlobeNewswire
---
Sym, a Boston and SF-based company putting security workflows in the hands of developers, has raised a $9M Series A led by Amplify Partners, with additional support form Gerhard Eschelbeck, Sri Viswanath, and Jason Warner.
Links: FINSMES, Financial Buzz, TechCrunch, SEC (which shows $12.2M raised)
---
GreenTech company Heila Technologies closed a $2.5M seed round led by Table Rock Infrastructure Partners, with participation from MassCEC. I wrote in July:
The three-year-old company is building a platform to help customers grow self-managed solar microgrids. They're doing so by developing a computing device that automatically optimizes the distribution of resources on a microgrid.
Links: Heila Technologies, BostInno
---
ZwitterCo, a company that uses reverse osmosis membrane technology for industrial water filtration, has raised $1.9M according to a Form D. I wrote in March:
The company claims that its nanofiltration technology can filter more than 98% of organic molecules. Zwitter's technology utilizes zwitterionic copolymers. They cheaply and efficiently treat industrial wastewater in a way that requires less water to be disposed of (it can instead be permeated back into the ground safely) or it can be treated before going through other waste management equipment to mitigate damage to machines.
Links: SEC
---
---
Thanks for reading!
That's all from me until next week — If you'd like to connect with me, you can find me on Linkedin and Twitter or check out my website at nickstu.art.
Missing something? Spot an inaccuracy?
Email me and tell me about it! I'll be sure to share it in my next update.